/
/
/
Invisalign Invisible Braces
At R Dental Clinic, we offer Invisalign
Invisalign is a fast, discreet way of straightening your teeth.  Invisalign treatment is clinically proven to be effective. In the hands of an experienced Invisalign Provider it can be used to treat mild to complex teeth straightening issues.
Your Invisalign clear aligners are custom made.  They fit snugly over your teeth and are clinically proven to improve control and tooth movement, gently moving your teeth and rotating them if needed.
Invisalign is quick and discreet, taking as little as 3 to 6 months, whitening takes 2 to 4 weeks and composite bonding in 2 to 4 hours!
To find out more about Invisalign click here
We provide a bespoke treatment plan for every patient.  We also offer a 0% interest finance option to help you spread the cost of your treatment if you so require.
Click here to find out more about finance options.
Briefly there are 2 treatment options:
Upper or Lower only (Single arch) plus removable retainer at the end and free whitening from £2295
Upper and Lower treatment (duel arch) plus a set of removable retainers at the end and free teeth whitening from £3295
Example  £3295 treatment with minimum deposit of £995 followed by 12 monthly payments of £191.67
a)  We Align the teeth (straightening)
b)  Brighten the teeth (whitening)
c)  Contour teeth with white tooth material – change tooth shape
Ideally both upper and lowers need to be treated together to achieve a controlled final end result and bite so most patients will benefit with dual arch treatment.
Click on this link to preview your own possible unique smile after Invisalign treatment.
https://www.invisalign.co.uk/SV/1052451
before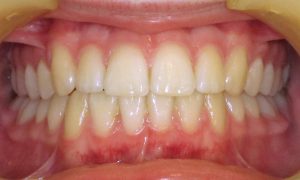 After
For more information call us on 01274 638061 where we will be happy to answer any questions you may have, or book a free consultation to discuss your options fully.
Cosmetic Dentistry

GENERAL DENTISTRY
Learn More

COSMETIC DENTISTRY
Learn More

DENTAL IMPLANTS
Learn More

BRACES
Learn More