Consultant Oral Surgeon with a specialist interest in dental implants; difficult extractions. Mr El-Awa is also a Consultant Oral Surgeon at Sheffield Teaching Hospitals and Dental School.
Mr Abdurahman El-Awa
Specialist & Consultant Oral Surgeon (GDC 170060) 
BDS(Hons). MFDS RCS Edinburgh. 
MSurgDent RCS England. 
CCST OS. FDS OS RCS Edinburgh.
Abdurahman is a Consultant in Oral Surgery; he has extensive experience in Oral Surgery, and he has a special interest in Dental Implants, Bone Grafting procedures as well as providing Sedation for the nervous dental patients.

He qualified in 2003 then moved to the UK in 2006 aspiring a higher specialist training in Oral Surgery. Since then he trained at Glasgow at the Dental School and Glasgow Southern General Hospitals, Sheffield Dental School & University Hospitals and Royal Derby Hospitals completing postgraduate training and specialist clinical experience in Oral Surgery.

Abdurahman is also a member of the Royal Colleges of Surgeons of Edinburgh and England where he examines specialist surgeons. Abdurahman worked as a Consultant Oral Surgeon at Manchester Teaching Hospitals and currently he is a Consultant at Sheffield Teaching Hospitals where he teaches both undergraduate and postgraduate dentists and dental students.
To book a consultation please call 01274 638061
Dental implants are a possible alternative to dentures or bridges for missing teeth. These implants, made from titanium steel, are artificial roots inserted into the jawbone to replace your natural tooth's root, which has been damaged or destroyed. They act as an anchor to hold artificial restorations in place.
Their benefits include:
The functionality and appearance of natural teeth
A comfortable feeling
Improved facial appearance, especially in the jawline, lips, and cheeks
Reduced or eliminated bone atrophy
Why dental implants instead of bridges or dentures?
Although bridges and dentures are used to replace missing teeth, some people find dentures uncomfortable to wear and find them inconvenient because they are removable. Bridges may require modifying healthy teeth to accommodate them in the mouth, which can cause weakness to your natural tooth.
If you are interested in the prospect of dental implants for missing teeth, your dentist will perform a thorough examination of your gums and your jaw's bone mass and structure to determine if you are a good candidate. If necessary, a CT scan will be arranged to help with the planning process.
How do dental implants work?
A small titanium cylinder acts as a replacement of your missing tooth's root. Titanium steel is used because it bonds easily with bone, making it easier for the cylinder to act as a fully functioning substitute. These implants can support a single replacement tooth or hold a denture in place more securely.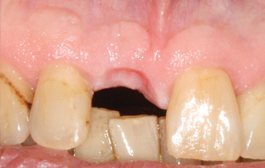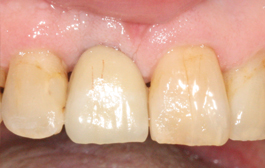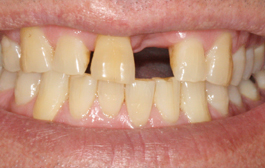 What is the dental implant placement process?
Dental implants are usually done in stages. After a local anaesthetic is applied (or intravenous sedation is administered if you are nervous), your dentist will put the implant into your jaw bone beneath the gum tissue. The gum tissue is then stitched back into place. During the healing process, the implant will bond with your bone and attach with your gums. This process can take several months. In some cases, a temporary replacement tooth, denture or bridge may be set on the implant right away.
Once the healing process is complete your dentist will attach an abutment, which is an extension of the implant post. A mould of your teeth and mouth will be made to create the artificial replacement crown to be attached, once ready. Your dentist will give you instructions at every stage about any precautions and aftercare requirements.
How long do dental implants last?
When you maintain oral health including regular check-ups, brushing and flossing, your implants can potentially last a lifetime. Special attention needs to be paid to your gums around the implant, because they are susceptible to the same diseases than can affect the gums around natural teeth. The crowns used for dental implants have a lifespan of 10 to 15 years due to normal wear and tear.